When I first started watching The Office, I didn't understand my other friends' obsession with it. I didn't think it was funny, cringed whenever Michael talked or did anything, and only enjoyed the small moments between Jim and Pam.
But as I watched on, Michael, Dwight, Angela, and practically anyone in the office started to grow on me. Even Andy, who I disliked more than Dwight at the beginning, became one of my favorites. The only two characters that I consistently disliked were Kelly and Ryan, and my dislike for Ryan even dwindled when he joined the Michael Scott Paper Company.
Anyways, what I'm trying to say is that for most of the characters, they undergo character development throughout the seasons. However, the "negative" characteristics however, don't necessarily leave a character forever, and in this post, I'll try to examine Michael's.
We all know that Michael has a lot of flaws. He's childish, inefficient, inconsiderate. But with the flaws also come a lot of great characteristics – he's caring, supportive, and sometimes a very stand-up guy.
He constantly tries to "boast", but usually fails spectacularly, as both the office and the audience understands that he isn't as "smart" as he claims, not as respectable, and not as compassionate. Michael contradicts himself constantly, saying things that are very questionable, and often times bigoted.
Despite these flaws, Michael Scott is a very celebrated TV character, loved by both the office and the audience. What has captured us and the members of the office is that he is really a pitiful character. We slowly learn that Michael is has had a lonely childhood, and his motivation for nearly all his crazy actions is fueled by a desire to be close with people. This (extreme) imperfection makes Michael human, and makes it easier for the audience to relate to him and like him. This is the sympathetic way of looking at it.
Another way of looking at it is that any relationship with Michael would've been toxic, as he very easily is able to turn the tables around and make people feel bad for him (hence, the sympathetic reading).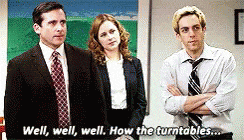 Michael could very easily throw a fit and ruin a party, but then turn the situation into that's something about himself, making everyone look at at their feet and feel sad for him. And as I said, everyone has flaws, but this flaw in real life would've forced people away from him.
Personally, I love Michael, but I don't think that the show portrayed the darker part of such a person.
So is Michael Scott really the world's best boss? I'll leave it to you to decide.